Last updated on January 1st, 2023
Coway Airmega 200M is designed to clean air in small rooms at least several times per hour. It features auto mode to adjust fan speed and eco mode for energy saving. This HEPA air purifier cleans air in 4 stages using 3 filters and one ionizer.
Read on this Coway Airmega 200M review to find out more about this powerful air purifier.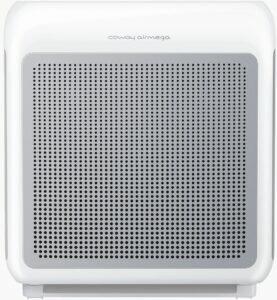 Check Coway Airmega 200M Air Purifier price at a discount
Specifications
| | |
| --- | --- |
| Space Coverage | 540 square feet |
| Air Changes per Hour | 4 (ACH recommendations for rooms) |
| Particles Removal | 99.97% down to 0.3 microns |
| Filtration Technology | 4-stage: Pre-filter/Carbon/True HEPA/Ionizer |
| Filter Life | |
| CADR Ratings | 241.3 (Smoke) / 298 (Pollen) / 247.4 (Dust) |
| Energy Star Certified | |
| Speed Settings | 5 |
| Auto Mode | |
| Eco Mode | |
| Sensor | Pollution Sensor |
| Noise Level | 24.4 – 55.1 dB |
| Power | 77 Watt (How much Electricity will it use?) |
| Weight | 15.41 pounds |
| Dimensions (L x W x H) | 9.6″ x 16.8″ x 18.3″ |
| Warranty | 3 years on motor & electronic parts |
My Coway Airmega 250 Air Purifier Review
What's in the Box
Coway Airmega 200M
1 Pre-Filter
1 Activated Filter
1 HEPA Filter
User Manual
Review
Coway Airmega 200M HEPA air purifier is available in two colors: white and black, although the latter is not always available. Personally I prefer white over black.
To clean air in a space Coway Airmega 200M uses 4 stage air filtration system: 3 filters and one ionizer. Let's see what they do and how they work.
Air Cleaning Capabilities
3-stage air cleaning mechanical system includes:
Pre-filter for large particles which are mostly hair and dust
Impregnated Activated Carbon filter for odors and gases
True HEPA filter to capture tiny particles (mold, fumes, fine dust) down to 0.3 microns
Coway Airmega also employs an ionizer called Vital Ion System that releases negative ions to help True HEPA filter capture particles and freshens the air. After some time the ozone smell is easily recognizable in the air. If you have low tolerance of increased ozone amount in the area, it is recommended to turn the ionizer off.
Speeds & Modes
Functions of the Coway Airmega 200M are pretty standard: Auto mode, 3 manual speeds and Eco Mode. Plus timer to schedule how long the air purifier has to work (1, 4 or 8 hours).
Auto mode relies on the in-built particle sensor: it checks air quality and based on that information turns on air purifier and automatically adjusts the speed. After several test runs I'd say the function works as intended: if the air quality indicator shows bad air quality the fan increases the speed, if the air quality improves then the speed lowers down.
The 200M's Eco mode kicks in if there is no pollution detected indoor in 30 minutes. In this mode the energy consumption is really low, almost like the air purifier doesn't consume Watts of power at all. The sound level is also very low.
Performance
When it comes to performance of the Coway Airmega 200M, I can state with confidence its worth the price. There are a few portable air purifiers that are priced a little over $200 and have the same or better air cleaning capabilities. I explore them in the Alternatives section of this review.
What caught my attention is the highest CADR rating for pollen: independent tests from Energy Star has showed the Airmega 200M airflow of 298 cubic feet per minute! I assure you, some air purifiers priced $400-500 can't reach that number, and Coway 200M does exactly that. If you are intolerant for pollen and get allergy every time you breathe air filled with it, this air purifier will definitely provide a great relief for you.
The situation is different if you are more concerned with odors. The Coway 200M uses impregnated carbon filter which isn't that great compared to the honeycomb filter used in some modern air purifiers (Winix 5500-2 is the prime example). It reduces odors, but doesn't remove the smell completely. And if you concerned with the musty odor in your house the Coway 200M is practically useless.
Suitable Room Size for Coway Airmega 200M
Coway Airmega 200M advertised as a small room air purifier, but due to its high CADR ratings it does pretty decent job in cleaning air in medium-sized rooms. Here an example of Coway Airmega 200M performance of capturing pollen in rooms with 8 ft. ceilings:
| | | |
| --- | --- | --- |
| Room size | How long it takes to clean room | ACH |
| 224 sq. ft. | 6 minutes | 10 |
| 280 sq. ft. | 8 minutes | 8 |
| 370 sq. ft. | 10 minutes | 6 |
| 560 sq. ft. | 15 minutes | 4 |
| 740 sq. ft. | 20 minutes | 3 |
CADR ratings for smoke and dust are lower, but still good. You can also calculate ACH for your rooms using this calculator. Remember, that it is advised to have at least 4 air changes per hour if you suffer from allergies or asthma.
Maintenance Costs
Replacement Filters: ~$55 for one pack of Filters (1 True HEPA and 2 Carbon Filters). (Check Availability / Amazon)
Electricity Costs: ~$3,7 per month if the Coway Airmega 200M runs 12 hours per day on Maximum speed. Use our Energy Consumption Calculator to estimate electricity usage and costs of this air purifier based on your local electricity rates.
Coway Airmega 200M Total Yearly Operating Costs (Replacement Filters + Electricity): ~$100.
Pros & Cons
The Good
High certified CADR ratings
Very good at capturing pollen
Maintenance Costs
Price
Excellent for small rooms
The Bad
Odor filter could've been better
Check Coway Airmega 200M Air Purifier price at a discount
Coway Airmega 250 vs Coway AP-1512HH
Coway Airmega 200M is quite similar to the Coway AP-1512HH Mighty air purifier. The table down below explores all differences between those portable air purifiers.
| | | |
| --- | --- | --- |
| Model | Coway Airmega 200M | Coway Mighty (Review) |
| Image | | |
| Model number | AP-1518R | AP-1512HH |
| Main reason to buy | More Poweful | Lower Price |
| Room Coverage (4 ACH) | 560 | 502 |
| CADR | 298 CFM | 268.39 CFM |
| Sound Levels | 24.4 – 55.1 dB | 24.4 – 53.8 dB |
| Dimensions (L x W x H) | 9.6″ x 16.8″ x 18.3″ | 9.6″ x 16.8″ x 18″ |
| Weight | 15.41 lbs | 12.3 lbs |
| Price | Buy Airmega 200M | Buy Coway AP-1512HH |
FAQs
Does Coway Airmega 200M produce ozone?
Yes! It produces 1 PPM of ozone. Ionizer can be turned off, so the air purifier will have zero ozone emissions.
Can I wash the HEPA/Carbon filter?
No, you can't wash the HEPA or Carbon filter. You have to replace them every 12 to 6 months respectively. You may wash permanent pre-filter.
Does the Airmega 200M has a remote?
No, it doesn't.
Alternatives
Winix PlasmaWave 5500-2 HEPA Air Purifier
Winix 5500-2 is quite similar to Coway Airmega 200M in terms of CADR ratings (they are slightly lower) and overall performance. But the major reason I can recommend it over the Airmega 200M is its odor filter: the 5500-2 uses honeycomb filter with carbon pellets that way more effective compared with the impregnated filter used in the Airmega 200M.
Honeywell HPA300 HEPA Air Purifier
The Honeywell HPA300 is also a good alternative to Coway 200M. It has zero ozone emissions and features 2-stage air filtration system. Click on the review button below to get more details about this air purifier.
Conclusion
I can recommend the Coway Airmega 200M to trap pollen and light odors. It performs the best in small rooms, achieving several air changes per hour removing allergies triggers very efficiently. As I already said in this review, the Coway M200 definitely worth the price.
If you are more concerned with smells in your house, then you better take a look at the Winix 5500-2 air purifier. It has a way better carbon filter that removes smells way efficiently compared with the Coway Airmega M200.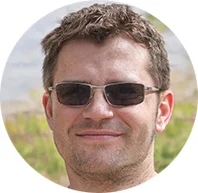 My name is Alex Evans and I own this website. I have been in air purifier industry for several years now and nowadays I write about air purifiers, their features, benefits and downsides. Cheers!