Last updated on January 1st, 2023
Coway Airmega 250 entered the market in 2021 but the release was glossed over (even the newbie like Shark air purifier received more attention) by the consumers and the company didn't advertise the newest model that much. And yet, it's one of the best air purifiers released in 2021: it doesn't have any fancy features and offers only great build quality, performance and quiet operation.
I review the Coway Airmega 250 on this page. Read on if you want to know more about the air purifier's performance, room coverage, maintenance costs and more!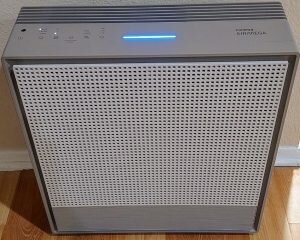 Specifications
Space Coverage
465 square feet
Air Changes per Hour
4 (ACH recommendations for rooms)
Particles Removal
99.99% down to 0.1 microns
Filtration Technology
3-stage: Pre-filter/Carbon/True HEPA
Filter Life
12 months for Max2 True HEPA Filter (check price)
CADR Ratings
249 (Smoke) / 230 (Pollen) / 261 (Dust)
Max Airflow
261.2 CFM (Smoke)
Speed Settings
3 manual speeds, 3 auto
Auto Mode
Sleep Mode
Eco Mode
Sensor

Pollution Sensor
Light Sensor

Noise Level
22 – 54 dB
Power
64 Watt (How much Electricity will it use?)
Weight
20.5 pounds
Dimensions (L x W x H)
8.3″ x 18.5″ x 19.7″
Warranty
3 years on motor & electronic parts
Energy Star Certified
My Coway Airmega 250 Air Purifier Review
What's in the Box
Airmega 250 air purifying unit w/ filters
User manual
On the box it stated air cleaning efficiency 99.97% down to 0.03 microns. I don't know whether it's a mistake or something else, but it is what it is. Anyway, here's my Coway Airmega 250 Air Purifier Review!
Review
The Coway Airmega 250 features 3 stage air filtration system:
Washable Pre-filter for hair, large dust particles and the like.
Combined Max2 honeycomb-like Activated Carbon Filter for odor filtration (VOCs, gases, cigarette, pet and kitchen smells) and True HEPA filter for bacteria, virus and mold capture.
The air cleaning unit is equipped with the 2 indicators that will let anyone to know when the pre-filter needs to be cleaned (usually 2 months after the first run) and the Max2 filter to be replaced (usually after 12 months if usage).
Coway 250's Auto-mode works as intended: increases speed when the air quality indicator shows aggravation of air quality and slows the fan when the air quality improves. At the highest speed the fan isn't noisy at all, I must say.
Sleep mode is activated automatically in Smart mode if the air purifier detects quality as good (blue) for 3 minutes. In this case the Coway Airmega 250 relies on the in-built light sensor that checks if the room is dark enough. It is also possible to manually disable all lights. In this mode power consumption and noise are even lower than at the manually selected minimum speed. And speaking about manual speeds, there are 3 of them: low, medium and high.
Coway Airmega 250 also has an Eco mode: if the air quality remains good for at least 10 minutes the air purifier fan turns off. It will resume if the pollution sensor detects any harmful particles in the air. I did some testing: put the air purifier in my kitchen (before it was in Eco mode and shined blue for several hours in my bedroom) and started cooking. After several minutes the light turned green (meaning moderate air quality) and I instantly heard increased fan speed.
In short, the Coway Airmega 250 is on of those rare air purifiers that are equipped with the smart functions that do make the difference and really work as intended. This is a great air purifier for any small or medium kitchen, living room or bedroom: plug the unit and forget about it until the indicator turns on and you have to wash or replace filters.
What I really dislike about the Coway Airmega 250 is the filter support. Replacement filters for 250 model aren't available on Amazon (filters from Airmega 300 or 400 do not fit) and the last time I checked official website the filters were out of stock. I do not know, maybe Coway didn't considered the launch successful or it is something else, but if the things continue the way it is now, Airmega 250 owners might end up having an excellent air purifier that runs only for 1 year due to the unavailability of the replacement filters.
Maybe in the nearest future some 3rd-party manufacturers will produce replacement filters for the 250 model, but I personally not a fan of such idea anyway, as many non-OEM sellers often have critical flaws in their filter designs greatly reducing performance of the whole air cleaning unit and sometimes rendering it useless.
Suitable Room Size for Coway Airmega 250
Coway Airmega 250 is advertised for rooms 930 square feet in size, but in reality the air purifier must be used for smaller spaces since the number 930 achieved with 2 air changes per hour and you want 3-4 at least. Here is a table for different room sizes and how long it takes for Coway Airmega 250 to clean air (used average CADR of 248 cubic feet of air moved per minute):
| | | |
| --- | --- | --- |
| Room size | How long it takes to clean room | ACH |
| 310 sq. ft. | 10 minutes | 6 |
| 465 sq. ft. | 15 minutes | 4 |
| 620 sq. ft. | 20 minutes | 3 |
| 930 sq. ft. | 30 minutes | 2 |
| 1860 sq. ft. | 43 minutes | 1.4 |
If you want to calculate air changes per hour for your room and get a closer look what are the general recommendations, go to the ACH calculator & recommendations page on our website. To perform proper calculations use these independently tested by Energy Star CADR ratings for Airmega 250:
Smoke-Free Clean Air Delivery Rate: 248.5 cfm
Dust-Free Clean Air Delivery Rate: 261.2 cfm
Pollen-Free Clean Air Delivery Rate: 230.1 cfm
Maintenance Costs
Replacement Filters: $69 per year for Max2 Filter (check availability).
Electricity Costs: ~$3 per month running 12 hours per day on Maximum speed. Use our Energy Consumption Calculator to estimate electricity usage and costs of the Coway 250 air purifier based on your local electricity rates.
Coway Airmega 250 Total Yearly Operating Costs (Replacement Filters + Electricity): ~$115.
Coway Airmega 250 Pros & Cons
The Good
Build quality
High CADR
Extremely Quiet
Price
The Bad
Replacement filters are hard to find
Coway Airmega 250 vs 250S
Coway Airmega 250S is identical to the 250 model, except for having support for the app (connects via WiFi) and scheduler for easier control.
| | | |
| --- | --- | --- |
| Model | Coway Airmega 250 | Coway Airmega 250S |
| Image | | |
| Model number | AP-1720H | AP-1720G |
| Main reason to buy | Lower Price | Easier to Control |
| App Support | | |
| Alexa Support | | |
| DRS Support | | |
| Timer | 1, 4, 8 Hr | 1, 2, 4, 8 Hr + Scheduler |
| Amazon | | |
Frequently Asked Questions
Does Coway Airmega 250 produce ozone?
No! The unit doesn't have an ionizer and it's completely ozone-free!
Can I wash the Airmega HEPA/Carbon filter?
No, you can't wash the Max2 filter. It must be replaced, cleaning will destroy its ability to capture particles. You may and should wash pre-filter.
Does the air purifier has a remote?
Coway Airmega 250 doesn't have a remote.
How often should I replace the Coway 250 filter?
On average, the air filter lasts for about 1 year before it needs a replacement. Wildfires, heavy smoking in a room can reduce its lifespan.
Alternatives
Nuwave Oxypure Air Purifier
The Nuwave OxyPure Smart Air Purifier comes with a much higher price than the Coway Airmega 250, but it has several benefits including higher CADR ratings (369 for pollen for example), longer warranty period and more settings for flawless control. Click on the review button to know more!
Coway Mighty AP-1512HH Air Purifier
The Coway Mighty air purifier features slightly lower CADR ratings compared with the Airmega 250, but it produces more sound and worse build quality. If noise level doesn't matter for you and you want to save up some money on an air purifier, the Coway AP-1512HH is definitely worth looking into.
Winix 5500-2 Air Purifier
Winix 5500-2 is quite similar to Coway Airmega 250 in terms of CADR ratings (they are slightly lower), room coverage and general performance. It also features Sleep mode which turns on automatically. The air purifier cheaper, but it also way more noisier even at the lowest speeds compared to the Airmega 250.
Conclusion
In conclusions I have only one thing to say about the Coway Airmega 250: it's an excellent air purifier that worth every penny. It's quiet when the unit runs at the highest setting, functions that require sensor work as described and overall performance is great.
The only major downside is, as I already pointed out above in me review, a probable lack of the replacement filters. It would be a pity if Coway decides to discontinue the product in the nearest future for one reason or another.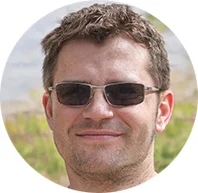 My name is Alex Evans and I own this website. I have been in air purifier industry for several years now and nowadays I write about air purifiers, their features, benefits and downsides. Cheers!