Last updated on June 13th, 2022
Today we'll compare Nuwave Oxypure smart air purifier and Molekule air purifiers (Air, Air Pro, Mini and Mini Plus) so that you can start narrowing down your search for a new air purifier!
We'll discuss the pros of each unit, as well as how they differ from one another. We will also talk about their filters, and conclude with our thoughts on which model might be better for you!
Nuwave Oxypure Pros

Molekule Air Purifiers Pros

CADR-certified
3 additional free filters
5 year warranty
Cheaper filters

Several available models
PECO filters
2 available models for small rooms
If you don't see the whole table, scroll it horizontally
Image

Air Purifier

Review & Price

Nuwave OxyPure


Certified CADR ratings for smoke, dust, pollen
3 free HEPA/Carbon-activated filters
The best for large rooms
5-year warranty
6 fan speeds & Auto mode
Price





Shop at Official Website





Molekule Air PRO

Works for large spaces
6 fan speeds & Auto mode
Excellent build quality




Molekule Air

Good for medium rooms
3 fan speeds
Excellent build quality
Molekule Air Mini+

Designed for small rooms
Very quiet (lower 30 dBa)
Auto-function
Molekule Air Mini

Designed for small rooms
Very quiet (lower 30 dBa)
What These Air Purifiers Have In Common
Both air purifiers are high end, and have similar features. They both have a feature that monitors the quality of your air on an ongoing basis so you know when it's time to change filters or turn off the unit for maintenance. The Nuwave Oxypure has this feature with their "NuSense" technology, whereas the Molekule Air Purifier uses what they call "Smart Sensors."
The smart sensors in the Molekule model also tell you how much energy each filter saves during its lifetime; the Nuwave Oxypure doesn't have any such information available from our research. Both can filter out particles that are smaller than 0.03 microns. The Molekule has a filter life of about 12 months, as same Nuwave Oxypure's.
Their filters are washable but Nuwave's replacement filters are cheaper.
The overall look and design for both models is similar as well; they're sleek white boxes with a digital screen to show you how your air quality is currently rated out of 100%. The only difference we can see between the two samples in photos online would be size – one model may be taller and wider than another.
Both products have auto-timer features so you don't forget to turn them off when not in use, different fan speeds for personalized settings based on your needs at any given time and remote control apps.
Both air purifiers do not emit ozone.
What are the benefits of Nuwave Oxypure over Molekule Air Purifiers
It is cheaper than the Molekule Air and Air Pro purifiers. Retail price for Nuwave Oxypure is $599 while Molekule Air series starts at $700 and higher.
There are discounts on Nuwave Oxypure.
One thing that sets this air purifier apart from most is that it can clean large spaces such as living rooms or kitchens whereas many other products only have capacity to clean the air in small rooms.
The Nuwave Oxypure filter requires a lot less maintenance than the Molekule Air Purifier.
It has an auto off timer that can be set for up to eight hours after which it will turn itself off if no air is being sucked through the unit, conserving energy usage and extending its lifespan.
Automatic shutoff when air is completely clean.
You get five years limited warranty coverage compared to 2-years on Molekule purifiers.
Cheaper replacement filters.
Three free additional filters (when bought at the official store) save up even more cash in the long run.
Better customer service.
What are the benefits of Molekule Air Purifiers over Nuwave Oxypure
The Molekule Air Purifier has a more advanced technology than the Nuwave Oxypure.
It claims to filter out 99% of all pollutants while only using 70 watts of power, making it about three times as efficient in terms of energy usage and operation cost.
Because air quality is measured on a logarithmic scale rather than an arithmetic one like with CO² levels, these numbers translate into real world benefits; for example according to its website, "the level at which most people notice bad smells or allergies goes from 100+ particles/cc (parts per million) down to less than 50."
One thing that sets this air purifier apart from most is that it can be used in any room, and it has a remote control.
The manufacturer also claims it to be able to filter out all allergens while still removing bad odors caused by bacteria.
It has a sleek design that would look good in any room of your home or office.
Many customers conclude that Molekule has definitely put a lot of their resources into build quality of their products.
Molekule Air Mini and Mini Plus are both great options for small spaces.
Conclusions
The Nuwave Oxypure is a cheaper machine compared to the Air Pro/Air. The price of replacing filters on Molekule machines add up in cost as well; with the Nuwave Oxypure there are no replacement costs to worry about in the nearest future!
Nuwave Oxypure vs Molekule Air Purifiers: which one is better? It's hard to say, but what we do know for sure is that they have different benefits depending on how much time or money you want put into maintaining them. Although based on our research we can say that the Nuwave Oxypure is better pick for your big or medium rooms, whilst Mini/Mini + is definitely a go to option for small rooms.
How does this comparison make you feel? Which would be best for you? Let us know below!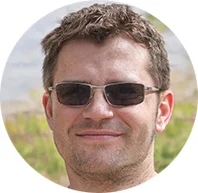 My name is Alex Evans and I own this website. I have been in air purifier industry for several years now and nowadays I write about air purifiers, their features, benefits and downsides. Cheers!