Last updated on January 1st, 2023
The threats of viruses and harmful particles are always in the air we breathe, even when we are in our rooms. Many brands came up with air purifiers to our rescue. But the most prominent name that we can think of is Molekule. Here I will review several models of air purifiers offered by this brand, and I will also share my personal experience that will throw some extra light on the products.
Molekule is a reputed brand that does not need any separate introduction. The brand is deeply committed to only one motto: providing fresh and clean air to breathe. They introduced PECO or Photoelectrochemical Oxidation technology which added a new definition to the purification of air. This technology has been implemented in all their air purifying machines.
Molekule offers an array of models based on PECO technology. The models include Molekule Air Mini/Mini+, Molekule Air Purifier and Molekule Air Pro. They are available in different price ranges with various features.
Molekule Air Mini+ is perfect for small rooms of about 250 sq. ft. On the other hand, if the room is larger, then Molekule Air Purifier and PECO Filter Bundle will be a suitable option. Apart from home, the brand also has a model that guarantees freshness in your professional area. Molekule Air Pro is based on PECO technology.
The models come along with different features and price ranges. Molekule Air Mini+ costs $499.00 without discount, Molekule Air Purifier costs around $700, and Molekule Air Pro price is way above $1000.
Molekule Air Purifiers Specs Comparison
| | | | | |
| --- | --- | --- | --- | --- |
| Air Purifier | Air Pro | Air | Air Mini+ | Air Mini |
| Image | | | | |
| Room  size coverage, up to | 1000 sq. ft. | 600 sq. ft. | 250 sq. ft. | – |
| Handle | Vegan Leather | Leather | Vegan Leather | Natural wool felt |
| Particle Matter Sensor | PM10, PM2.5,PM1.0, down to 0.3 | – | Yes | – |
| Auto Protect Mode | Standard & Quiet | – | Yes | – |
| Fan Speeds | 6 | 3 | 5 | – |
| Filter Life | 2 PECO-filters per year | 2 PECO-filters per year; 4 Pre-Filters per year | 2 PECO-filters per year | – |
| Power Consumption | 61-152 Watt | 20-85 Watt | 18-53 Watt | – |
| Sound Levels | 30-64 dB | 30-55 dB | 30-52 dB | – |
| App enabled | iOS&Android | iOS&Android | iOS&Android | – |
| WIFI | 2.4GHz | 2.4GHz | 2.4GHz | – |
| Weight | 22.9 lbs. | 18 lbs. | 7.3 lbs. | – |
| Warranty | 2 year limited warranty | 2 year limited warranty | 2 year limited warranty | – |
| Dimensions (WxH) | 10.9″ x 23.9″ | 8,25″ x 23″ | 8.26″ x 12″ | – |
| Price | | | | |
Molekule Air Pro Pros & Cons
The Good
Perfect for professional places and high traffic areas
It collects and destroys pollutants.
It has a particle sensor that helps identify three different particles, like PM10, which denotes pollen; PM2.5 represents dust; and PM1 indicates smoke.
There are two Auto-Protect modes. Standard mode helps regulate the fan speed automatically depending on the level of particles, and the mode, which is Quiet mode, controls the noise level day and night. There is also the option to operate these manually.
There is a filter status indicator that lets you know when to replace the PECO filter.
Low energy consumption.
The device operates without emitting much sound.
You can operate the device from your phone through the app. You can change the fan speed or check the status of the filter. The app will even send you a notification when it is time to change the filter.
Easy to clean and maintain.
User-friendly manual.
The Bad
It produces a strong gasoline smell during the first few days.
The device is way too expensive
The filters are costly
Cannot connect the device to WiFi at times.
Molekule Air Purifier Pros & Cons
The Good
The dual way of filtration destroys harmful airborne elements and viruses.
Designed to work in medium rooms.
It has a touch screen display making it easier to control.
It can also be operated from your phone through the Android app, iPhone or WiFi.
The sleek design can easily fit into your room and does not occupy much space.
The model with a leather handle is easy to carry.
It does not emit any harmful byproducts.
The Bad
Refills are required every six months.
The price is quite high.
Molekule Air Mini+ Pros & Cons
The Good
Perfect for small rooms up to 250 sq. ft.
Collects and destroys pollutants.
The device controls the fan speed depending on the quantity of particulate matter present in the air.
Indicates when it is time to change the PECO filter.
Silent mode enables it to works silently
Energy consumption is relatively low
You can check the status of the filter and change the fan's speed through the app no matter where you are.
The Bad
High price.
No touch screen display
Filters change are required every six months and they are expensive.
Molekule Air Pro RX Pros & Cons
The Good
This air purifier is of medical grade and is suitable for health care centers, facilities, etc.
This model is based on PECO ultraviolet air purification technology. and with the help of ultraviolet radiation, it can destroy the deadly airborne bacteria and virus and other harmful particles and mold.
This particular model is specially designed for health care centers and facilities to destroy airborne pathogens or microorganisms.
It consists of a filter coated with a nano-particle, which can destroy various harmful viruses.
Molekule Air Pro RX is quite powerful in comparison to the other models of this brand.
It is easy to set up.
The device is easy to carry as it has caster wheels.
The exterior of the model is made of steel which enhances the look and is easy to clean.
The device can work without WiFi.
The Bad
Price is too high; about $1200.00
The company offers only two years warranty
The filter needs to be changed every six months.
This air purifier isn't available at the moment.
Molekule Air Pro Review
What's in the box
Molekule Air Pro unit w/ 1 PECO filter
User Manual
I am an owner of Molekule Air Pro, which I purchased about a couple of months back. Out of so many options in the market, I was pretty confused initially as to which brand would be perfect and suitable as per my requirement. I also had to stick to my budget.
After a lot of research, I finally purchased Molekule Air Pro, which I needed for my large room. I want to share my experience, including all the features and the design and looks in detail. But to be very honest, the product did not dishearten me completely.
Design
The product looks fantastic but is a bit heavy. The weight of the device is approximately 10 kilograms. It is 23 inches tall and 11 inches in diameter. It is perfect for my 900 sq ft area as the device can treat about 100 sq ft area. The design is quite trendy and is very easy to set up. It is a bit larger than the original Molekule model.

It has a brushed aluminum finish that adds to the aesthetic look of the room. The white base enhances the look of the device. The device is portable despite its weight. Thanks to the vegan leather handle! The power cord can be wrapped around the base when not in use, giving it a clean look.
There is a touch screen at the top of the device from where I can operate it. This touch screen displays the modes and also the quality of the air. Though there is no physical remote available for this device, an app is available, which I have installed on my phone and use it to operate the device instead of walking to the machine. Needless to say, that the app pairs seamlessly with the device, making it exceptionally comfortable for me to use.
The device consists of three pieces; the upper part of the device includes the touch screen panel; the other part is the filter, which consists of the pre-filter and the PECO filter. The third part is the shell in which the filters are placed. The setup is easy without any complications.
Performance
After setting up the device once, I switched it on; I was surprised by the very low sound that it emits. The sound did not interfere with the serenity of the room at all.
It did surprise me the way it changes the speed after it detects the air of poor quality. Even if I light a candle or the fireplace, the device senses an abnormality in the air quality, and the motor speeds up to high gear automatically!
When I turn on the device at full speed, it covers more air. The quality of the air is displayed on the screen. The device works in two modes which are quiet mode and standard mode. The first one is definitely quit and don't bother me at all.
Initially, I was a bit concerned about the power consumption despite the company's promise that the device uses less energy. But I was happy to see that even it runs the entire day and night, the power the device consumes is less.
Filters
Molekule uses the PECO or Photo Electrochemical Oxidation nanotechnology. This fantastic technology is beneficial, which I can say from my own experiences. It helped me get rid of the allergies that I used to suffer from before purchasing this product. This technology destroys harmful airborne viruses, bacteria, molds, and allergens.
The filter even does not fail to capture the dust particles and other large unwanted particles which float in the air. However, I can't deny that the price is a bit too high, but it was a good investment. Surprisingly I even found the furniture in my room dust-free.
Noise
Before purchasing, I went through some reviews that complained that the device emits a distracting sound and disturbs sleep. However, after the purchase, I was again proved wrong as the sound it emits can merely be heard.
The device is quiet in the normal mode but emits a sound of the fan speed when it detects something to combat in the air. But this sound is also that loud that it will disturb my sleep. The sound is even not as loud as the refrigerator.
The sound level changes from 61 to 63 decibel, too, when the fan speed is high. So it is not that noisy! I have seen other conventional air purifiers at my friends' place. But Molekule Air Pro is almost soundless in comparison to those. Thanks to its unique technology!
Price
The price of this device is $1199.99 approximately which is quite higher than any other conventional air purifier available in the market. But to be very honest, I did not give it a second thought to invest this amount.
The way it functions and its usefulness is quite adequate, and I became an admirer of this brand from the day it freed me from my allergy-related complications!
But of course, the filters are pretty expensive if it needs to be replaced every six months. The cost of the Molekule PECO air filter is $79.00, which is not quite pocket-friendly.
Manual
Every Molekule device comes along with a detailed user manual, making it easier for the user to install it. The manual starts with Best Practices' which help in the long run.
The manual includes diagrams that make it easier to get the device installed all by you within minutes. It also provides vivid details about the Controls and interface, Modes and states, fan speed selector, which includes the instruction on how to swap between Auto protect and Manual modes.
It also states about the Settings and teaches you about how the device works, which is also helpful. The manual even guides you with detailed diagrams on how to replace the filter. So if you follow the manual, setting up this device is very simple!
How to use
Once you unbox the device, you will find the power cord wrapped around the base. You can pull it out as per the length you need to reach the power socket. There is a filter inside, and once we put the top lid-like structure, we can switch it on. It might take some minutes to boot.
After the booting is done, you can install the app on your phone. You can follow the instruction that is being shown like connecting it to the device or the WiFi. The app is the perfect way for you to communicate with the device. It will guide you through the status of the device and let you know when to replace your filter.
After the device is paired with the app, you can select the auto mode or the manual mode. You can also change it to standard or quiet. If you are not quite comfortable using the app, do not worry because there is a touch screen at the top of the device to find all the instructions. The screen will display the status of the air in your room, whether it is good or bad.
Suitable Room Size for Molekule Air Pro
Molekule Air Pro is advertised for rooms 1000 square feet in size, but unfortunately the company does not provide any details on the amount of air moved per hour (CFM). It does not provide the data even in their manual.
It is possible to figure out CADR using the calculator, but to do that the company has to specify air changes per hour for the specified room size. But Molekule doesn't provide that!
I can only speculate that if the advertised space coverage means 4 air changes per hour then CFM could be around 530. If this is the case, then the Molekule Air Pro definitely worth the price since it can definitely clean air continuously in large spaces and be very effective in eliminating odors, gases and harmful bacteria. Good option for asthma sufferers too.
If the manufacturer puts 2 ACH as their target for air cleaning, then the airflow is about 270 CFM. Let alone 1 ACH with 130 cubic feet per minute airflow. If that is correct, Molekule Air Pro is overpriced and you better look for some alternatives. Some of them I listed below (and they are cheaper too!).
But again, it's all speculation and thus I cannot say whether it's really does it job for large spaces or is it only effective for small and medium rooms.
Molekule Air Pro Maintenance Costs
Replacement Filters: ~$150 per 1 PECO filter that has to be replaced every 6th month. Check price & availability.
Electricity Costs: ~$8 per month running 12 hours per day on Maximum speed. Use our Energy Consumption Calculator to estimate electricity usage and costs of the Molekule Air Pro air purifier based on your local electricity rates.
Total Costs Per Year: 2 PECO Filters (~$300) + Electricity (~$100) = $400.
Maintenance Tips
Regardless of the fact how expensive your air purifier is, proper maintenance is a must. It will increase the life of the device and save you high repairing cost in the long run, as the better you maintain the device, the more it lessens the chances of taking professional help if needed.
The first thing you need to keep in mind regarding maintenance is that you should change the filter whenever required depending on how frequently you use it.
The maintenance of the Molekule Air purifier involves only a few steps. You just need to wash the plates (depending on the model) of the filter regularly.
FAQ
Here is a list of some common questions which a customer may ask.
Are PECO filter auto refills available?
The device, when purchased, comes along with one PECO filter. Once the device alerts you that it is time to refill, you need to place an order for a new filter, and it will be delivered to your doorstep within a given timeframe.
Why does the device emit a strong burnt odor?
When the device is in manufacturing, it comes across some volatile organic compounds or VOC. It might take 24-48 hours for the odor to dissipate. The bag of activated carbon that is provided along with the device helps in absorbing the odor.
Why doesn't the device switch on at times?
If the device does not turn on, then ensure the following and follow these simple steps:
There is no problem with the power socket.
The PECO filter is not wrapped.
Once the PECO filter is inserted into the device, wait till the status light indicator turns green.
Does the device support WiFi?
Yes, Molekule Air Pro supports WiFi signals.
Molekule Air Pro vs Blueair Pro XL
Both Molekule Air Pro and Blueair Pro XL are designed to work in large spaces (rooms, offices) to clean and freshen the air. Here's main differences between those models:
| | | |
| --- | --- | --- |
| Model | Molekule Air Pro | Blueair Pro XL |
| Image | | |
| Main reason to buy | Lower Price | Powerful; Effectively cleans air in large rooms |
| Space coverage (advertised) | 1000 sq. ft. | 1180 sq. ft. |
| Space coverage (4 ACH) | ? | 1500 sq. ft. |
| CADR (cfm) | ? | 950 Dust/ 900 Pollen / 800 Smoke |
| Filter Life | 6 months | 6 months |
| Power | 61 – 152 W | 33 – 256 W |
| Noise Level | 30 – 64 dB | 32 – 58 dB |
| Dimensions (L x W x H) | 11″ x 11″ x 23″ | 20″ x 10″ x 44″ |
| Weight | 22.9 lbs. | 66 lbs. |
| Price | See Price | Best Deal |
Molekule Air Pro vs Dyson Pure Hot + Cool Air Purifier (Heater + Fan)
| | | |
| --- | --- | --- |
| Model | Molekule Air Pro | Dyson HP04 |
| Image | | |
| Main reason to buy | Larger Space Coverage | Cheaper; Purifier+Heater+Fan |
| Space coverage (advertised) | 1000 sq. ft. | 600 sq. ft. |
| Filter Life | 6 months | 1 year |
| Speed Settings | 6 | 10 |
| Power | 61 – 152 W | 40 W |
| Noise Level | 30 – 64 dB | 40 – 57 dB |
| Dimensions (L x W x H) | 11″ x 11″ x 23″ | 9.7″ x 8″ x 30″ |
| Weight | 22.9 lbs. | 18.9 lbs. |
| Price | See Price | See Price |
Alternatives
If Molekule Air Purifier does not meet your expectations, then you can go for the following alternatives.
Nuwave Oxypure Air Purifier
The NuWave Oxypure smart air purifier comes with washable stainless-steel pre-filter and washable Bio-guard filter that trap large particles. For the smaller ones there is traditional True HEPA filter and Activated Carbon filter for odor and gases.
The air purifier has auto and sleep modes and features 6 fan speeds in total. They be controlled with an app as well.
See NuWave OxyPure price at Official Website
Airdog X8 Air Purifier
Airdog X8 is pricey, but decent piece of air cleaning technology. It moves 470 cubic feet of air per minute and capable of cleaning 1000 square feet in just 17 minutes eliminating odors, gases and trapping dangerous particles inside their 5-stage filtration technology.
The maintenance is also cheaper compared to the Molekule air purifiers, since collecting plates on Airdog are washable and do not require replacement after several month of usage.
IQAir HealthPro Plus Air Purifier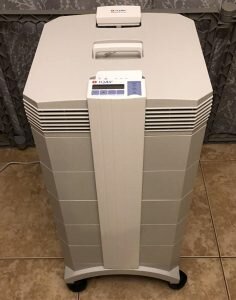 IQAir has similar price to Molekule Air Pro air purifier, but it does things a bit different. First off, the manufacturer does specify CADR, so you can decide whether the unit suits for your room or not.
Secondly, the manufacturer focused on reducing allergens and helping asthma sufferers whilst designing IQAir HealthPro Plus. It is very efficient in eliminating viruses and bacteria that cause negative effects on people's health.
We go into more details in our IQAir HealthPro review, the link is below.
Conclusion
Molekule is definitely quite controversial air purifier that become known due to the aggressive marketing strategy. On one hand it does good at eliminating VOCs from the air and improving air quality, on the other hand it's pricey, the manufacturer hides crucial information about purifiers CADR capabilities and the highest-priced model aren't capable of covering large rooms.
Overall, you should probably at least take a look at other available air purifiers before buying any Molekule air purifier.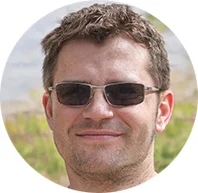 My name is Alex Evans and I own this website. I have been in air purifier industry for several years now and nowadays I write about air purifiers, their features, benefits and downsides. Cheers!