Last updated on January 1st, 2023
Update in 2023: Dyson TP02 is a bit outdated and overpriced unit. Take a look at more recent Dyson air purifiers.
If you have been researching and reading reviews on air purifiers, then you may have come across Dyson Pure Cool Link TP02 Air Purifier. Dyson TP02 is an updated version of the previous TP01 model. The latest version is a smart version that includes features like built-in WiFi, Alexa, and Siri support. This product combines both an air purifier and fan with an automatic cleaning mode that lets the gadget stay in a standby mode until it senses the need for air filtration.
Below is a detailed review of the Dyson TP02 Tower Air Purifier & Fan, discussing the pros and cons, its features, user guidelines, Frequently Asked Questions and other alternatives.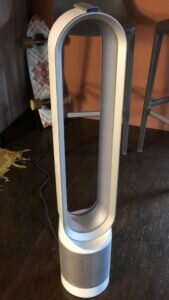 Specifications
| | |
| --- | --- |
| Space Coverage | 400 square feet (calculate ACH for your room) |
| Pollutants Removal | 99.97% |
| Filtration Technology | Advanced 5-stage air filtration technology |
| Filter Life | 12 months (replacement) |
| CADR | 70 |
| Max CFM of Air Moved | 867 |
| Speed Settings | 10 |
| Auto Mode | |
| Sleep Mode | |
| Sensors | Particle Sensor |
| Noise Level | 63 dB |
| Wi-Fi | |
| App | |
| Power | 40 Watt (How much Electricity will it use?) |
| Weight | 8.4 pounds |
| Dimensions (L x W x H) | 4.3″ x 7.5″ x 40″ |
| Warranty | 2 years on unit |
My Dyson Pure Cool Link TP02 Air Purifier Review
After buying Dyson Pure Cool Link TP02 Air Purifier a few months back, I am surprised that it works as advertised! Yes, it is a bit on the high priced side, but it is an excellent value for money and one of the best investments I have made in a household product.
Below is my review of this product in various categories- size, design, accessories, amplifiers, the controls, modes, real-time sensors, filters, room coverage, sound level, power consumption, performance and price.
Size
The Air Purifier is about 3.5 feet tall, and its width measures up to 8 inches and its thickness over 4 inches which overall is a slim base. Despite its 3.5 feet height, it is surprisingly lightweight, weighing just about 8 pounds, but you should be careful around kids as they can easily move the Dyson air purifier.
Design
The Dyson TP02 has a unique design compared to other traditional air purifiers that mostly come in box shapes. It has a tall slim design with a large oval and bladeless open amplifier on top of the device. The air goes from the bottom of the device where the filter is located and then comes out from the amplifier's top after being purified. There is an LED indicator at the front part of the base that shows different symbols, and you can find a power button on top of the base.
Its sleek and unique design is an attractive household product that will look good in any corner of your room. My house has a minimalistic modern design, and the addition of this Air Purifier elevated the whole look of my room. If you have rooms with different designs or colours, don't worry because this device blends into any room style, so there is no more worrying about household devices looking out of place in your home.
The package
The Dyson Pure Cool Link TP02 Air Purifier package comes with only a few essential needed accessories, like:
The Dyson TP02 Air Purifier
HEPA filter to purify the air quality
Remote control to change the settings preferences
The power cord start running the device
Amplifier
One of the unique features when it comes to Dyson fans and air purifiers is their amplifiers. It is the part where the air comes out after being purified. The amplifier has a bladeless design that gives it a modern look, and it moves in 360 degree, which helps in more polluted air. The amplifier can be cleaned using a simple cloth or a vacuum cleaner with a dusting brush attached.
The Controls

Another good thing about this Air Purifier is its control system which allows you to control the device in two different ways:
The remote controller is magnetic and can be easily connected. While using the remote control, you need to look at the purifier and the display screen on the base to see if it's responding as there is no visual interface on the remote controller. You can change the air purifier settings any way you want using the remote control. The remote control can also be stick on top of the air purifier as it's magnetic.
This version of TP02 offers a basic digital display, giving little information, unlike the newer versions.
You can also use the Dyson Link App to control the air purifier along with the remote controller when you want to make any changes. The device has an onboard WiFi card, and you can use it to connect it to a WiFi connection.
You first have to install the Dyson Link App to operate your purifier via the mobile app, after which you can connect the WiFi and air purifier. The app is straightforward to use and takes only 5 minutes to set up. Through this app, you can set up a daily or weekly air purification schedule and check the device performance, change other settings, and much more.
Using the Dyson Link App, you can do the following things:
You can voice control the device using Alexa or any other similar platforms
Control over all the features and settings on the Dyson TP02
Check the quality of the air inside and outside of your whole home
Create schedules or manage them for air purification
Keep in check the filter lifespan
Modes
Dyson Pure Cool Link TP02 Air Purifier offers three different operating modes.
In auto mode, the Dyson air purifier detects the air quality and increases or decreases the fan speed to maintain better air quality automatically. This mode is the most commonly used and is best when used in homes.
You can manually control the settings like changing the oscillation and fan speed according to your needs in this mode.
In night mode, we can enable a sleep timer, which is an excellent way to automatically turn off the air purifier without worrying about closing it. You can make changes according to your preference and let the purifier do its job on its own. In night mode, the display lights are also dimmed.
Real-Time Sensors
The Dyson Pure Cool Link TP02 Air Purifier has a built-in sensor that helps in detecting the air quality. It gives real-time information to let you know the quality of your air.
Another one of its best features is that it takes this data and automatically operates based on the information. It then cleans the air according to the level of air quality. The lesser the air quality, the more the auto mode will increase the speed of fan to make the air quality better.
Room Coverage
Under the Dyson air purifier category, Dyson TP02 is one of the giant air purifiers. It gives a powerful airflow, covering a 400 square feet space without any problem. At the maximum setting, the airflow of this air purifier is 114 gallons per second. Since the air purifier also works as a fan, it doesn't have CADR and ACH ratings. Dyson air purifier room coverage can also stand equally to premium products like Blueair Pro XL, priced at $2400.
Sound Level
Many reviews made by customers say the Dyson TP02 air purifier is soundproof. I must agree to it because it doesn't make any sound unless you keep it at the highest level, which isn't an annoyance at all; the sound produced can blend into your background.
Dyson TP02 and the first Dyson Pure Cool Tower model have the same internal fan, so the sound level is the same as 40 decibels; this can be compared to the sound level in a library. The sound level is a bit high when kept at the highest speed, which can come up to 62.2 decibels. Though this level of sound won't be a disturbance and you can still have a peaceful sleep.
Power Consumption
One of the most important features to review to know if an air purifier is a good one or not is to understand its power consumption. The Dyson TP02 has been measured to consume an average power of 56 watts, which is considerably low as it has a strong fan power.
Performance
The Air Purifier is very easy to use and delivers exceptional performance. You can place the device in any corner you want and then connect it in. After which, you can link it to your app via WiFi connection, following the step-by-step tutorial given and control the device through it, or you can even use the remote to control the device according to your needs.
It is one of the best air purifiers that functions well and surprisingly does what it claims to do. Since the purifier is lightweight, moving it from one place to another won't be a problem.
Price
Choosing to buy an air purifier can be pretty tricky, especially when there are so many different options now to select from. The prices of air purifiers aren't always low, and most of the good ones are all expensive. So before I invested in buying an air purifier for myself, I first researched getting the best air purifier that is valuable for my money. After detailed research, I settled on buying Dyson Pure Cool Link TP02 Air Purifier, priced at $599.99. The Dyson TP02 air purifier can be as good as other expensive air purifiers, and now, since the drop of prices from its official $599.99, you can get it at a lower price.
Dyson TP02 Filters
The Dyson TP02 uses True HEPA filters and Activated Carbon filters.
Layer One – True HEPA filters
It uses a glass HEPA borosilicate filter that removes air-borne particles up to 99.97 per cent, which can be small as 0.3 microns; it also captures bacteria, pollen and pet dander, etc.
Layer Two – Activated Carbon filter
Also known as the air filter, the activated carbon in the Dyson air filter is made of graphite which is good for absorbing gaseous pollutants on their surface example, household product odours, gases, and smoke.
The Dyson TP02 Air Purifier uses this filter to improve the air quality in a room. It uses a single HEPA (High-Efficiency Particulate Air Delivery) filter placed on the device's base, which is significant in size and circular in shape.
Test conducted also shows that Dyson TP02 purifies air much better when compared to other air purifiers in the same price range. The latest TP02 and previous TP01 model uses the same air filter, priced at $69. The air filter has a lifespan of 12 months, so the filter needs replacement after every 12 months of usage. The filter used is not washable. I like how the Dyson air purifier really removes any bad smell and makes the room fresh again.
Manual
Dyson gives a detailed manual of its TP02 Air Purifier. It was effortless and didn't take much time for me to set up the Dyson air purifier and have it running. The instructions given in the user manual are straightforward to follow. You can start by removing the packages and installing the filters by sliding them into the base of the device, plugging them in, and turning them on. After all this, you can set it up on either auto or select a manual mode via the remote control or app by following the step-by-step instructions.
How to Use
Before you start using the Dyson air purifier, remember to unplug the device from the socket before changing the filters. To change or reinsert the filters, you need to push the buttons down on both sides of the device. There is a button above the screen that you can press to turn on or turn off your air purifier. You can change the filter when the indicator signals you. The air purifier also adjusts accordingly to the air quality, so you basically don't have to do much manually. If you need to use it manually, you can use it through their Dyson link app or the remote controller, which is easy to use. The product has a 10-speed setting which you can change according to your need.
Dyson TP02 Maintenance
It is important to keep air purifiers in their best condition to get the best results from them. Air purifiers from Dyson also come with an easy follow maintenance, they are:
Replace the used filters after every 12 months
Wipe the amplifier with a dry or a damp cloth to clean any dirt or dust on the outside
Clean your devices and check for blockages
In the air inlet holes and amplifiers, check if there are any blockages. To remove debris or dust, you can use a soft brush.
When cleaning the device, avoid using polishes or detergents
If, at any time, it displays an error code, unplug the device and then plug it again and check if it works. If this technique doesn't work, then you can contact Dyson Helpline
Pros & Cons
The Good
A combination feature of both air flow and air purification
It has a unique design
Strong airflow at 410 litres per second
Includes HEPA plus Activated Carbon filters
Has smart technology features like WiFi, Alexa, and Siri
Automatic air filtration mode
Value for money
Zero noise airflow in night mode settings
The Dyson link app can also control the air purifier after connecting it to WiFi.
Removes allergens and pollutants up to 99.97 per cent
The Bad
Falls on the premium and expensive side
Performance of carbon filter is low
Repeated replacements of filters
Frequently Asked Questions
Below are some frequently asked questions on the Dyson Pure Cool Link TP02 Air Purifier:
How much power does Dyson TP02 Air Purifier in take?
The Dyson TP02 has been measured to consume an average power of about 56 Watts. So when used at its maximum speed setting and you use the purifier for about 12 hours a day, then every month, your electricity bill will come to about $2.5
How much does replacing a filter cost?
The Dyson TP02 Air Purifier filter comes about $100 (although sometimes price can be as low as $69) with a single replacement. The filter has to be changed after every 12 months, so it means you will be spending $100 on filter replacement annually.
How to contact Customer Support Services?
If you want to solve any of your queries related to Dyson Air Purifiers, then you can always contact the customer service helpline listed on the Dyson website. Their customer service is efficient, and they will help you in solving any of your queries cooperatively. They have one of the best customer services.
How long does Dyson air purifier last?
The Air Purifier comes with a single filter with a combination of HEPA filter and Activated Carbon filter, which have to be changed after every 12 months of use with 12 hr of daily usage.
How many years of warranty period do we get on Dyson Pure Cool Link TP02 Air Purifier?
This is one of the downsides of Dyson air purifiers as it offers only two years warranty period, which is okay, but when compared to other air purifiers brands they provide a five-year warranty period which is the gold standard.
Alternatives
Nuwave OxyPure Smart Air Purifier
The Nuwave OxyPure HEPA air purifier priced at $599. It is an advanced air purifier, but it is much more expensive than the Dyson purifier. It has a five-layer filtration system that lasts up to 20 years, except the HEPA/Carbon filter changed annually. It clears 99.97% of allergens in 2 hours, covering about 720 square feet, and is energy efficient as it automatically turns on only when it detects low air quality. One of its highlighting features is the ability to connect and control the device through the phone.
Honeywell HPA300 Air Purifier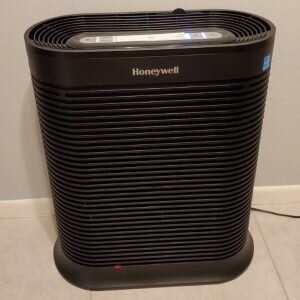 With a $249 cost, the Honeywell HPA300 HEPA air purifier is a mid-range air purifier known for its quality. Besides gases, smoke and odors, it also helps minimize certain airborne germs and VOCs covering around 300 square feet.
Honeywell HPA300 Air Purifier Review
Winix PlasmaWave 5500-2 Air Purifier
The Winix PlasmaWave 5500-2 HEPA air purifier effectively cleans indoor air and it is very popular among consumers. It uses innovative technology and sensors like Plasma Wave Technology that helps in detecting pollutants and neutralizes gases and viruses without producing harmful ozone. It effectively covers more than 300 square feet of space.
Winix PlasmaWave 5500-2 Air Purifier Review
Conclusion
Dyson Pure Cool Link TP02 Air Purifier is a top-notch purifier, delivering one of the best filtering systems you can get in the consumer market going as low as 0.3 microns. If you want the best air quality, I feel you won't regret investing in a Dyson air purifier. Even though yes it is a bit expensive but it still is an excellent value for money.
Almost every air purifier has a HEPA filter and carbon-activated filter, but this one follows the WHO standards, which have very strict standards. Dyson delivers everything I want in an air purifier at a price that feels reasonable and fair, keeping in mind the quality, usability, and performance.
So if you want to own a unique design air purifier that not only delivers looks but excellent performance, quality product, and easy to use functions, then look no further!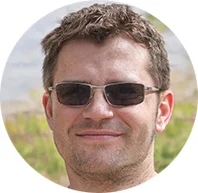 My name is Alex Evans and I own this website. I have been in air purifier industry for several years now and nowadays I write about air purifiers, their features, benefits and downsides. Cheers!