Last updated on October 8th, 2022
An air purifier for a bedroom must be a quiet machine and not all air cleaners follow this guidelines. Thankfully, Slevoo air purifier and oil diffuser produces only 24 decibels of sound at the lowest speed, making it really quiet and not disturbing your sleep.
Want to know more? Continue reading this Slevoo air purifier review.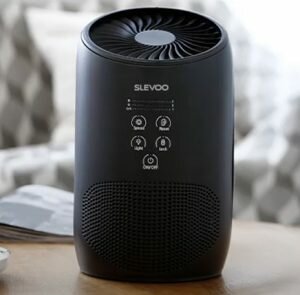 Specifications
| | |
| --- | --- |
| Space Coverage | 107 square feet (calculate ACH for your room) |
| Particles Removal | 99.97% at 0.3 micron |
| Filtration Technology | 3-stage air filtration technology |
| Filter Life | 3-6 months (Replacement Filter) |
| Filter Size & Weight | 5.2″ x 5.2″ x 3.55″;  0.93 pounds |
| CADR Ratings | 86 CFM |
| Speed Settings | 3 |
| Noise Level | 24 dB (lowest settings) |
| Power | 12 Watt (How much Electricity will it use?) |
| Weight | 3 pounds |
| Dimensions (L x W x H) | 7″ x 7″ x 13.5″ |
| Warranty | 1 year on unit |
My Slevoo Air Purifier Review
What's in the Box
Review
Slevoo Air Purifier isn't some fancy air cleaning unit that supports various modes, Wi-Fi and so on. This sleek air cleaner can be described in 3 words: cheap, compact, quiet.
For a little over 40 US dollars you get:
Removing particles down to 0.3 micron with 99.97% efficiency. The particles include dust, smoke and other odors, pet dander, hair.
The air purifier that is energy efficient.
Quiet operation which is a great news if you are planning to use the Slevoo in your bedroom at night.
5 pieces of sponge to apply essential oil (not included).
It is also has a filter indicator that blinks red when the air filter requires a replacement.
Suitable Room Size for Slevoo Air Purifier
Slevoo for some reason didn't mention CADR in their spec sheet, but I can figure out it by myself using this Clean Air Delivery Rate calculator. Knowing the number of air changes per hour (6) in a specified room (107 sq. ft.) I can measure Slevoo CADR and the result is 86 CFM (cubic feet per minute of air moved).
Is it a good CADR rating? For the price – extremely great!
Now let's see how the air purifier performs in spaces of different size:
| | | |
| --- | --- | --- |
| Room size | How long it takes to clean room | ACH |
| 107 sq. ft. | 10 minutes | 6 |
| 160 sq. ft. | 15 minutes | 4 |
| 215 sq. ft. | 20 minutes | 3 |
| 320 sq. ft. | 30 minutes | 2 |
What this table tells us is that the Slevoo air purifier is great for people with allergies who are planning to run it in their ~100 sq. ft. bedrooms or bathrooms. For everyone else, the effective space coverage increases up to 200 square feet before the air cleaner becomes useless.
Or, you can get two of them and place it in 2 places in one 300 – 400 sq. ft. room, diametrically opposed to each other.
Maintenance Costs
Replacement Filters: ~$25 every 3-6 months for BS-03 3-in-1 HEPA air filter (check availability). The filter is identical to the one used in Partu HEPA air purifier.
Electricity Costs: ~$1 per month running 12 hours per day on maximum speed. Use our Energy Consumption Calculator to estimate electricity usage and costs of the Slevoo air purifier based on your local electricity rates.
Total Yearly Costs:~$110 when replace the air filter every 3 months or ~$55 if replace it every 6 months.
Pros & Cons
The Good
Very cheap
Child Lock
Available in 2 colors
FAQs
How often should I change the Slevoo air filter?
At least once in 6 months. It all depends on the indoor air quality; the filter indicator will let you know when to replace air filter with a new one.
Where do I put the air purifier?
Preferably near the source of odor.
Wrapping Up
All in all, the Slevoo air purifier is a 2022 newcomer, that hasn't lost to its more famous counterparts and will continue to rise in the future if the company continues to support it.
It's probably the major negative thing I can say for now about the Slevoo air cleaner: this brand is unknown and who knows whether it's going to be successful or not, as only time will tell.
If everything goes in the right direction, the Slevoo is one of the candidates for the best air purifier for 100 square feet bedrooms and bathrooms as it not just cleans but also freshens the air with its aromatherapy add-on.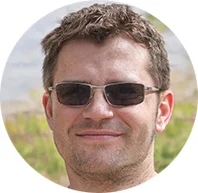 My name is Alex Evans and I own this website. I have been in air purifier industry for several years now and nowadays I write about air purifiers, their features, benefits and downsides. Cheers!