Last updated on December 1st, 2022
Aroeve has been present on the air purifier market for quite some time, but only in 2022 I managed to get my hands on one of their air cleaners. The model is MG04JH and it is marketed for large rooms and offices.
Let's test this Aroeve HEPA air purifier to see how it performs!
Specifications
| | |
| --- | --- |
| Space Coverage | 1095 square feet, 1 ACH (what's that?) |
| Particles Removal | 99.97% at 0.3 micron |
| Filtration Technology | 4-stage air filtration technology |
| Filter Life | 3 – 5 months (Replacement Filter) |
| Filter Size & Weight | 10.7″ x 8.89″ x 1.4″; 10.9 ounces |
| CADR Ratings | 146 CFM |
| Speed Settings | 2 |
| Sensor | Air Quality Sensor |
| Auto Mode | |
| Sleep Mode | |
| Noise Level | 22 dB at minimum level |
| Power | 55 Watt (How much Electricity will it use?) |
| Weight | 8.63 pounds |
| Dimensions (L x W x H) | 13.5″ x 7.5″ x 17.25″ |
| Warranty | 1 year on unit |
My Aroeve Air Purifier Review
What's in the Box
Aroeve MG04JH air purifier unit
Air filter
User Manual
Review
I will try to keep this review as short as possible, giving out only the necessary information and avoiding milk-and-water stuff.
The Aroeve air purifier uses 3-stage mechanical filtration system and an additional air treatment that incorporates:
Air inlet
Charcoal filter to target odors
HEPA air filter to capture particles down to 0.3 micron at 99.87% efficiency
Air treatment which is basically UV-light to treat bacteria, mold and viruses
Is it a good filtration system. I'd say above average, for sure. You shouldn't expect miracles and this air purifier won't remove wildfire smoke or anything similar to that, but it's capable of reducing household odors and, in some cases, completely eliminating them.
Build quality of my unit I consider OK: expecting the $130 air purifier to be built from anything except for a plastic is hopeless. For example, air cleaners made out of steel has a way higher price tag. Especially, if they are made in the USA; Aroeve is manufactured in China.
At the top of the unit located:
Air quality indicator: Blue for good, Yellow – moderate, Red – poor;
Air filter indicator: the filter itself has a lifespan of 2000 hours, but can decrease gradually if air quality is too bad;
Turn on/off UV treatment;
Power button;
Display off/Reset;
Timer (8, 12, 24 hours);
Sleep button – turn on/off sleep mode. In this mode the air purifier runs at the lowest speed and produces only 22 decibels of sound;
Button to select between speed 1 and 2 or Auto mode. In auto mode the air purifier select the speed automatically based on the data from the built-in sensor.
As you can see, nothing fancy, just the things your average air purifier has.
Suitable Room Size for Aroeve Air Purifier
Aroeve doesn't mention their CADR rating, but thankfully they specified that in a 1095 sq. ft. room I should expect 1 air change per hour. With a help of this wonderful CADR calculator I am able to find out Aroeve CADR rating which is 146 CFM.
You can say – "Hey, they write "CADR up to 300+":", but:
Aroeve mentions CADR in cubic meters (m3/h) used in Europe and not in CFM (cubic feet per minute) used in the USA;
300 m3/h convert to approximately 176 CFM, but it is total airflow whereas 146 CFM is the amount of air that is being cleaned up in the process.
Now let's see what area this air purifier can cover:
| | | |
| --- | --- | --- |
| Room size | How long it takes to clean room | ACH |
| 137 sq. ft. | 8 minutes | 8 |
| 182 sq. ft. | 10 minutes | 6 |
| 230 sq. ft. | 12 minutes | 4.8 |
| 360 sq. ft. | 20 minutes | 3 |
| 540 sq. ft. | 30 minutes | 2 |
Under normal conditions, ACH 2-3 is enough for bedrooms and living spaces. If you have allergies and/or asthma, you should look for air purifiers with air changes per minute rating around 4-5 or better. Minimum eight air changes per hour is recommended in a heavily smoked room.
If you want to calculate air changes per hour for your room and get a closer look at the general recommendations, go to the ACH calculator & recommendations page.
So, can you use the Aroeve in a 1095 sq. ft. room or office? You can, but you won't notice any difference in air quality. It's too small and underpowered to clean room in such large area. Check my review of air purifiers for 1000 sq. ft., there I list powerful and decent air cleaners that capable of cleaning such area from air pollutants.
Maintenance Costs
Replacement Filters: ~$30 every 3 to 5 months for the Aroeve HEPA air filter (check availability).
Electricity Costs: ~$3 per month running 12 hours per day on maximum speed. Use our Energy Consumption Calculator to estimate electricity usage and costs of the air purifier based on your local electricity rates.
Total Yearly Costs: from $126 if replace filters every 5 months to $156 if replace the air filter every 3 months.
Pros & Cons
The Good
Affordable replacement filters
Auto mode
Very quiet in sleep mode
The Bad
New brand
Cheap materials
Misleading room coverage
Aroeve Air Purifiers Comparison
If you don't see the whole table, scroll it horizontally
| Model | MG04JH | MK01 | MG01JH |
| --- | --- | --- | --- |
| Image | | | |
| Room Coverage | 230 sq. ft. | 215 sq. ft. | 215 sq. ft. |
| CADR | 146 CFM | 146 CFM | 143 CFM |
| Auto Mode | | | |
| Sleep Mode | | | |
| Oil Diffuser | | | |
| Price | $$$ | $$ | $ |
FAQs
How often should I replace the filters on the Aroeve?
At least every 5 month.
Does it produce ozone?
No, this air purifier doesn't produce ozone.
Wrapping Up
So, is it a good idea to buy the Aroeve air purifier in 2022? Well, if you want to relieve yourself from an allergy in a large room or to deal with a strong smell of any kind, then probably not. It doesn't have powerful fan to circulate air in a 1000 sq. fr. not it has a big amount of carbon in its air filter to absorb such odors.
Another con I must mention is the Aroeve brand itself. It is a fairly new brand, and there is always a change it might dissapear leaving anybody who had purchased their products without replacement filters, rendering an air cleaning unit useless,
The Aroeve air purifier is a good pick for small and medium rooms, that either require air cleaning from time to time or it can also be used 24/7 to maintain good air quality as it's really quiet when runs in Sleep mode.
I can also recommend checking my reviews of Winix PlasmaWave 5500-2 and Coway Airmega AP-1512HH air purifiers. They are pricier units, but come from trusted brands and offer a better air cleaning compared to one done by the Aroeve.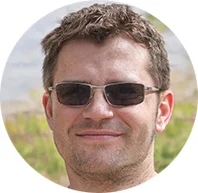 My name is Alex Evans and I own this website. I have been in air purifier industry for several years now and nowadays I write about air purifiers, their features, benefits and downsides. Cheers!