Last updated on December 7th, 2022
After the release of Shark HP102 for small rooms (check my review if you're interested), the company has decided to release yet another air purifier – this time for large rooms up to 1000 square feet.
In this review I'm going to take a look at the Shark HP201 MAX air purifier and check whether it holds true to the claims.

Specifications
| | |
| --- | --- |
| Space Coverage | 1000-500 square feet (read review; calculate ACH for your room) |
| Particles Removal | 99.98% at 0.1-0.2 micron |
| Filtration Technology | 3-stage air filtration technology |
| Filter Life | 6 – 12 months (Replacement Filter) |
| Filter Size | 12.2″ x 8.7″ x 12.4″ |
| CADR Ratings | no data – more details in the review down below |
| Speed Settings | 4 |
| Auto Mode | |
| Sleep Mode | |
| Sensors | |
| Noise Level | ~60 dB max |
| Power | 36 Watt (How much Electricity will it use?) |
| Weight | 10.91 pounds |
| Dimensions (L x W x H) | 10.83″ x 10.83″ x 22.47″ |
| Warranty |  years on unit |
My Shark HP201 Air Purifier MAX Air Purifier Review
What's in the Box
Shark HP201 Air Purifier body
Nanoseal HEPA filter with Microban
Review
The newest model doesn't have a unique design and it works as any other Shark air purifier: the air is sucked in through the air intake vents located at the lowest half of the body, then it passes through the HEPA filter and gets released from the top air output vents.
The control panel is also located at the top of the unit: you will find there on/off button, Auto mode selection, Fan speed button, Air Info, Brightness, Timer, Filter Life and Child Lock. The display is located at the front, that's where the unit shows all data related to particles (the sensor recognizes PM1, PM2.5 and PM10 particles), air quality (from 0 to 100%), selected modes (Auto, Eco) and the remaining life of the filter.
In other words, this is a standard control panel from the Shark. There is no Sleep mode, but you can dim the lights using the brightness button.
But all these functions are useless if the air purifier cannot filter basic particles of dust, pollen, smoke and others. To do it well, it has to have a good air filter and suitable airflow for the area that needs air cleaning. I'll talk about airflow later and now let me focus on the Shark HP201 filter quality.
Filter
The Shark claims the HP201 uses a nanoseal HEPA filter treated with Microban. Let's see what these words mean.
A Sealed air filter means that 100% of air that passes through it will get cleaned. In my experience, most air purifiers despite their claims, cannot guarantee that and the Shark is not an exception. The filter fits the body nicely, it doesn't leave much space for the air to avoid the filtering layers inside, but it's definitely not sealed 100%.
A HEPA filter is a standard air filter for most air purifiers. Here you will find more information about this type of filters along with the best HEPA air purifiers I can recommend this year. Shark says their filter can remove air pollutants as small as 0.1 – 0.2 micron (meaning it can catch virus particles) at 99.98% efficiency, but I couldn't manage to verify this claim.
Lastly, Microban is the name of the company that makes antimicrobial additives, odor control solutions and surface disinfection technologies. In other words, the Shark HP201 filter simply has a thin layer that protects the growth of microbes on the filter itself, it doesn't help with air cleaning in any way.
Suitable Room Size for Shark HP201 Air Purifier MAX Air Purifier
If you are familiar with my reviews of Shark air purifiers, you'd know that this manufacturer prefers not to disclose the airflow (measured in CFM – cubic feet per minute, which is also known as Clean Air Delivery Rate) their units generate. As a result, it is impossible to calculate air changes per hour (ACH) for different room sizes.
However, there is still a chance to do that. You see, manufacturers often put the room size that their air purifier can clean once per hour (1 ACH). If we assume this is true for the HP201, then the table will look like that (using our CADR calculator):
| | | |
| --- | --- | --- |
| Room size | How long it takes to clean room | ACH |
| 125 sq. ft. | 8 minutes | 8 |
| 165 sq. ft. | 10 minutes | 6 |
| 210 sq. ft. | 12 minutes | 4.8 |
| 250 sq. ft. | 15 minutes | 4 |
| 500 sq. ft. | 30 minutes | 2 |
| 1000 sq. ft. | 60 minutes | 1 |
Under normal conditions, ACH 2-3 is enough for bedrooms and living spaces. If you have allergies and/or asthma, you should look for air purifiers with air changes per minute rating around 4-5 or better. A minimum ACH rating of 8 is recommended in heavily smoked rooms.
From my experience and from what people say in their reviews, the Shark HP201 Air Purifier MAX effective coverage stands at 500 square feet. That's the maximum area the Shark sensors can adequately monitor the air quality whereas the fan can generate enough airflow.
If you are looking for a large room air purifier, this model isn't the one you should buy: it simply won't be able to circulate and clean the air from dust, allergens and odors. If you have a large home and looking for an air purifier I recommend buying one of these models.
Maintenance Costs
Replacement Filters: ~$40 every 6 to 12 months (check availability)
Electricity Costs: ~$1,75 per month running 12 hours per day on maximum speed. Use our Energy Consumption Calculator to estimate electricity usage and costs of the Shark H201 Max air purifier based on your local electricity rates.
Total Yearly Costs: $62 (replacing the filter once a year) or $102 (replacing the filter twice per year).
Pros & Cons
The Good
Sensors work as intended
Quiet
The Bad
Room coverage is smaller
Price
Shark HP201 Air Purifier MAX vs Shark HP202 Max
Both air purifiers belong to the same HP200 series and are the same when it comes to design and features. There are only two things that make the Shark HP202 different from the Shark HP201:
Color: the HP202 is available in charcoal grey while he HP201 is white colored;
Room size: the HP202 has a larger space coverage: 1200 sq. ft. vs 1000 sq. ft. If you have read the review, you'd know that real coverage is somewhat twice as small (600 sq. ft. vs 500 sq. ft.).
FAQs
Can I wash the filter?
The Shark's filter is not washable. For air purifiers with washable filters click here.
How do I know when to replace the filter?
The Filter Life button on the top will blink.
What air purifier for 1,000 square feet can you recommend?
Here's my list of the best air purifiers for 1,000 square feet.
What air purifiers under $300 are good?
I usually recommend either Winix air purifiers or Coway. They are made by trusted companies that have a history of making air cleaning solutions. For medical-grade filtration, Tracs air cleaners are exceptionally good.
Wrapping Up
All in all, this air purifier has left me with mixed feelings. On one hand, it is quiet, auto mode reacts quickly to the air changes and the unit provides data on the number of pollutants in the air. And the Shark Max did remove food odors from my kitchen when I have it tested. So this machine does hold to some of it marketing points.
On the other hand, the Shark company, true to itself, hasn't disclosed CADR his time once again – and this is a huge red flag to me. As I have mentioned before, the filter isn't particularly large as well – so realistically speaking, 1000 sq. ft. doesn't seem real and you may expect this Shark air cleaner to do the job in areas 500 sq. ft. and smaller.
To sum up, I wouldn't recommend getting the Shark HP201 MAX for the retail price which is above $300. However, if you see this unit is sold at a discount – let's say for $200 – 220 – you may consider buying one as this price better reflects its capabilities.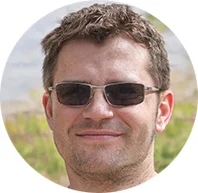 My name is Alex Evans and I own this website. I have been in air purifier industry for several years now and nowadays I write about air purifiers, their features, benefits and downsides. Cheers!